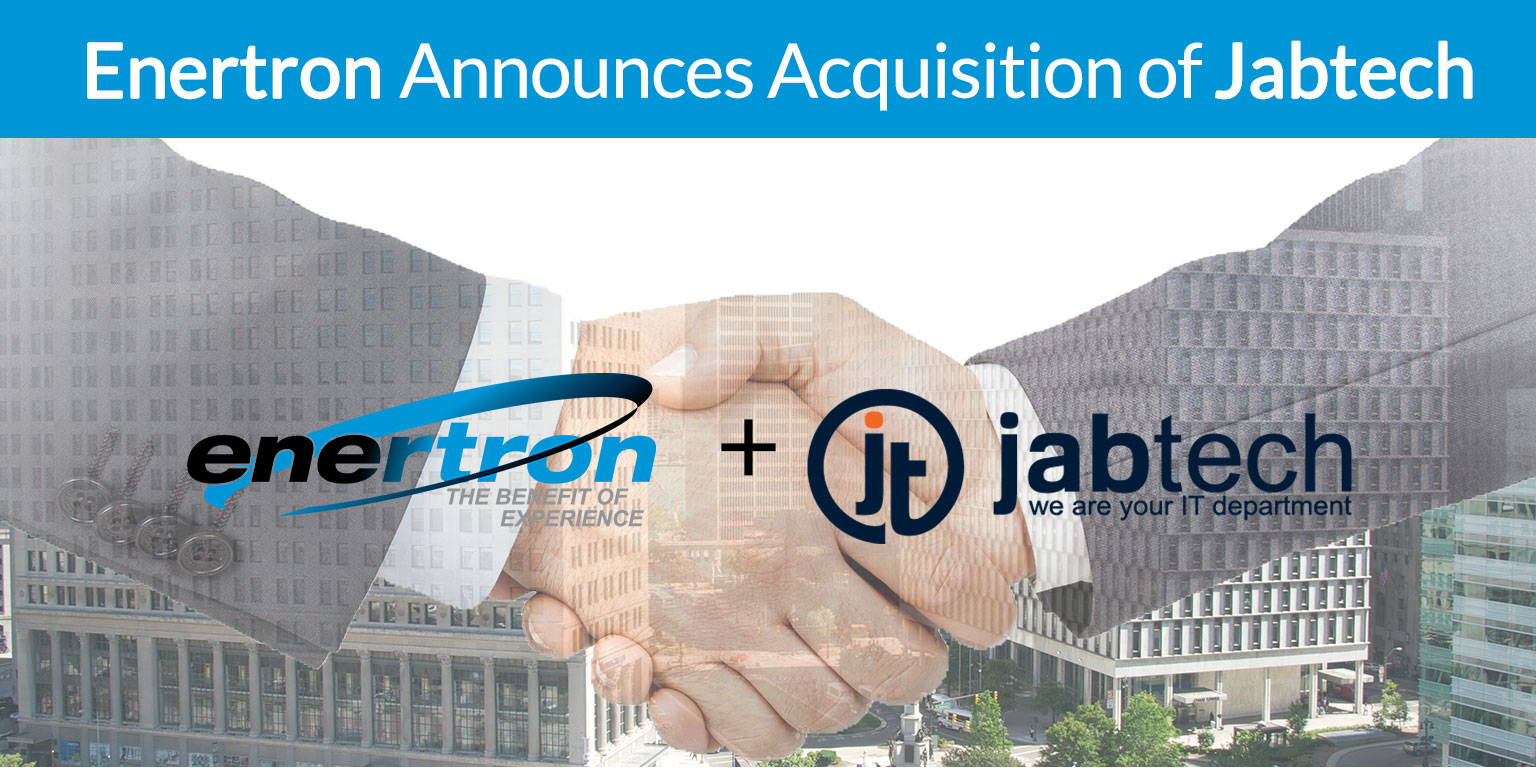 To Our Valued Customer:
Enertron is pleased to announce our acquisition of Jabtech. The acquisition officially took place on January 1, 2019. As of the first of this year, our combined firms will begin conducting its practice as Enertron LLC.
Enertron, originally Compu-Aid, started back in 1988 as a managed services organization for main frame equipment. Growing the business over 30 plus years was accomplished organically by referrals from our customers, but also from the many IT professionals we have worked side by side with through the years. We have kept current in technology by attracting and developing highly skilled staff, which are the backbone of the organization. With this staff and the continued efforts of the management team we continue to grow and expand our areas of expertise, all with the goal of helping our customers grow their business without worrying about their IT.
Jabtech was founded in 2006 by Jason Bigham to help businesses in Metro Detroit realize their potential through expert-level IT planning and support. After working for several IT companies, he discovered the need for strong IT support in the SMB space and started Jabtech to fill that gap. Partnering with numerous businesses, Jabtech has built a great reputation providing small business support services, technical strategy and professional IT services to large organizations such as the Troy School District and Birmingham Public Schools.
Enertron and Jabtech have joined forces to provide a comprehensive set of IT services that will better serve our customers' needs. The acquisition is a strategic move that immediately allows both organizations to combine resources and become a single, larger, stronger IT organization and Managed Services Provider. Your business will benefit from having more experienced technicians and a larger, more experienced leadership team to guide you through the realm of technology. Enertron will be one of the largest MSP's in Metro Detroit, which also gives us a competitive advantage in a variety of new markets, while strengthening our current position.
Additionally, Enertron and Jabtech share the same values and ideals. These qualities are what have led to the success of both organizations. Joseph LaFrance, founder and Owner of Enertron, commented, "The acquisition between Enertron and Jabtech provides a major growth opportunity for our business through extended service offerings and support for our clients. As the realm of IT continues to expand, we believe this acquisition allows us to continue to focus on what is most important – putting the customer first."
We will be able to provide you many new services and areas of expertise in the future. We look forward to discussing those in more depth with you. However, there are several things we want to point out that will not change:
You will continue to work with the same people in our firm you have in the past. All of our people are being retained in their current roles.
The services we have provided you in the past will continue to be offered by the combined firm with additional support and talent.
Jabtech has moved their office to Enertron's headquartered office at 38251 S Groesbeck Hwy, Clinton Twp, MI 48036. Jabtech's existing phone numbers will continue to be operational for the time being although we anticipate consolidating phone numbers as soon as possible.
If you have any questions about this exciting news and what it will mean for you, please contact any of us at any time. We look forward to introducing you to some of our new partners and associates. The future is looking better all the time, and the work we do with our clients makes it all possible!